ALTER-Net is a partnership of 24 research organisations in Europe, developed in the EC´s Sixth Framework Programme. ALTER-Net has organized its fourth summer school from 5 to 17 September 2009 in Peyresq, Alpes de Haute-Provence, France on "Biodiversity and Ecosystem Services".
The ALTER-Net Summer School is contributing to durable integration and spread of excellence within and beyond the network, with a view to promote interdisciplinary approaches.
The 2009 Summer School has focussed on:
Biodiversity and ecosystems in Europe;
Ecosystem processes, function, services and benefits;
Resilience of social and natural systems;
Valuation of biodiversity and ecosystem services;
Linking biodiversity research with policy and the public
Information on the Summer School can be found here: http://www.pik-potsdam.de/infodesk/education/alter-net

This was the first time that FCM has been used at the ALTER-Net Summer School. 29 maps were produced by the participants trying to answer the "easy" question:
"What factors will lead to a change in the natural environment and how will that effect human well-being".
 All complete maps (n = 25) were aggregated into one big social map using the aggregation tool of FCMapper.  The aggregation resulted in a map containing 226 concepts and was used to run scenario analysis.The attempts of the participants (and tutors) to find an answer to this question can be found in this Document: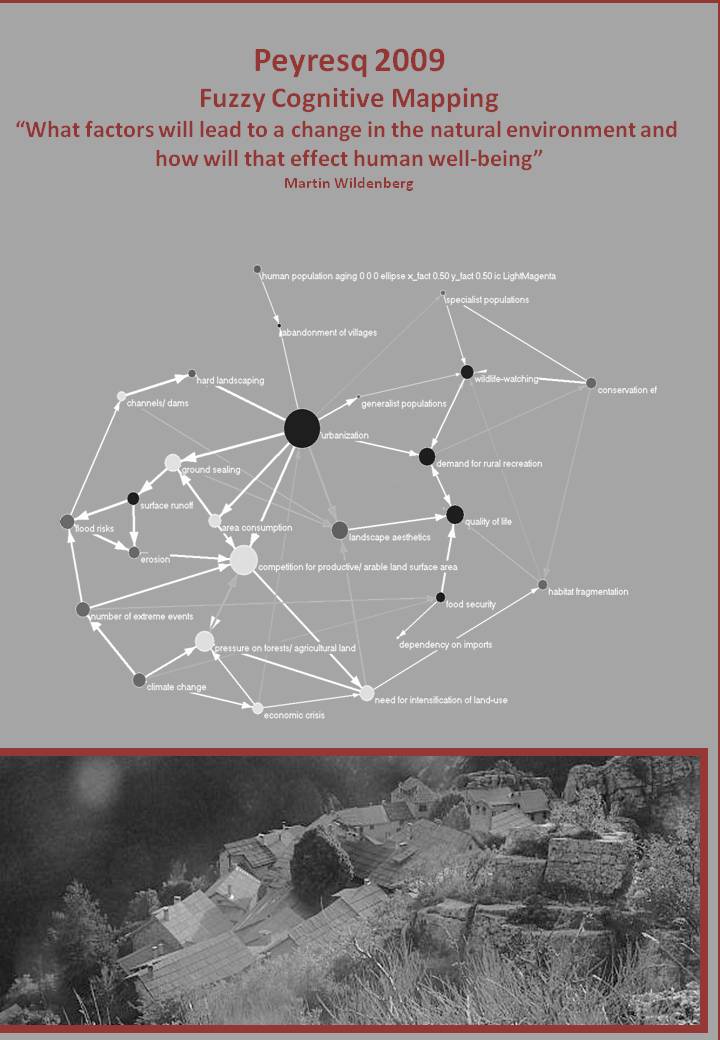 The document has three main parts, the first gives a review on all maps, the second introduces the aggregated map and some results of the dynamical analysis (simulation) of this map and finally the third part contains all individual maps & their indices.
Two presentations given at the Summer School can be found
here
(introduction) and
here
(analysis).

Some Results:
For the visualisation both Pajek and Visone were used. (see software section for download)
Figure 1: Graphic representation of overlap between maps grouped into the disciplinary background of the creator. The size of the maps represents the number of concepts counted in the maps of the respective discipline; the width of the line represents the number of similar concepts between the disciplines.
Figure 2: Overlap between the single maps. The colors of the maps represent the disciplines they belong to (see figure 1 for color code – gray = discipline not known). The size of the node represents the amount of shared concepts.
Figure 3: The aggregated social map with its 226 concepts.

Figure 4: The most central concepts of the aggregated map
Figure 5: All neighbors directly influencing and influenced by the concept "Human well being" and their inter-linkages.
For questions contact:
Martin Wildenberg
Download matrixes, netfiles and pictures of all maps